O & M
The Top List Solar O&M Companies In India? Seeking Solar Asset Management Expertise In India? We take Solar Project for Complete Turnkey Solution, Solar & Wind Projects and Running Plant Management under Bharat Solar Energy Solar Assets Management from EPC to Operation and Maintenance (O&M), Solar Plant Remote Monitoring Solution, Technical Performance like Technical Failure and Fault Finding Process Management, Design Fault Claim, Insurance Claim Management, Warranty Claim, Solar Panel Efficiency Control, Modules Cleaning, Land Acquisition for Solar Projects, Landscape and Security Management to Buying and Selling Running Operational Solar Plant Assets, Financial and Accounting Management, Stakeholder Management, Asset and Portfolio Monetization Management, Solar Project Consultancy Service, etc. Bharat Solar Energy provides Operation & Maintenance Service for yearly contract, provides Periodic Reporting for taken each Solar Project under it's Solar Energy Asset Management in India. We, at Bharat Solar Energy, Kolkata based Solar Energy Company, provide all types of Electrical Engineering and Solar Installation Service, and EPC across India.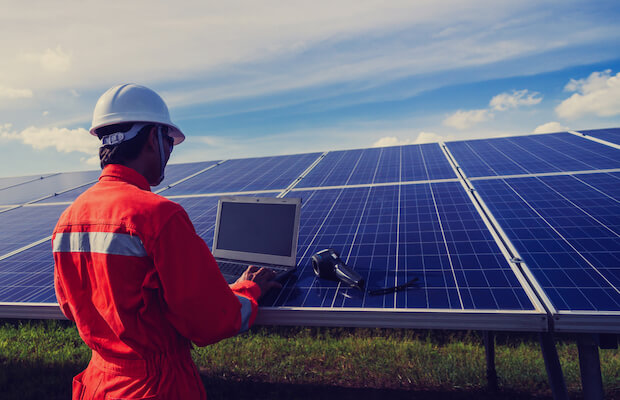 We, at Bharat Solar Energy, provide Engineering Design and complete installation of Solar and Wind Power Projects, Solar Mw Ground-Mount and Rooftop Solar Plant Project and Wind Power Project Complete EPC and Turnkey Project Solution. We provide Rooftop Solar Power Plant in Opex and Capex basis. Supply Solar Panels, Solar Monitoring System, Scada System, Solar Axis Trackers, Solar Modules Cleaning System, Solar Street Lights, Solar Home Appliances like Solar Hybrid AC, Solar Induction Cooker, Solar DC Fans, Solar Battery, Solar Inverter, Diverse Solar Lighting Systems.
BHARAT SOLAR ENERGY CONSULTANCY SERVICE, DESIGN DRAFTING SERVICE & CONSULTANCY FOR SOLAR POWER PLANT IN INDIA AND WORLDWIDE?!
For New Project Consultancy, we provide
"Power Plant 3D Video".
"Power Generation Report".
Approx. Structure weight calculation.
For Finalized Shovel-Ready Project, we provide:
Power Plant 3D Video with power generation report.
Detailed Drawing which includes:

PV layout
General Layout
Cable routing layout
Earthing layout
Fabrication Drawing

Complete BOM (Bill Of Materials) For Electrical & Structural Parts.
On-site Consultancy over the phone call (if required).
Other Services :
Liaisoning Work.
DPR (Detailed Project Report).
Drawing & Reports For Residential & Commercial Rooftop Project.
Also our Consortium Partner's Renewable Energy Sector and Solar PV Power Plant related Inspection Services Include:
Feasibility Report / Energy Yield estimation
Detailed Project Report (DPR)
Project Management Consultancy
Independent Owner's / Lenders Engineer (LIE)
Design Review
Independent Third Party inspections for Solar Plant components at Vendor's Place.
Field Quality Assurance at Project Sites (Third Party)
Solar PV Plant Performance Testing (Analysis using PV Analyzer , IR Camera , EL Camera, etc.)
Commissioning Test as per standard
Construction Site Safety, Coordination & Surveillance
Safety Audits
Technical Training.
Feature These Options
Solar Assets Management TM
Solar O&M Services In India
Solar Asset For Sale TM
Remote Monitoring Solution
Rooftop Complete Solution
Vendors Management